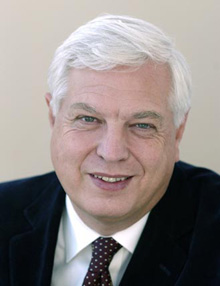 We have received heavyweight support from legendary journalist John Simpson in our campaign against funding cuts from Bradford MDC.
The BBC World Affairs Editor opened the prestigious event in 2010 and signed copies of his critically acclaimed book, Unreliable Sources: How the Twentieth Century Was Reported, his fourteenth publication in a list of works which includes two novels.
While on a private visit to the town last week Mr Simpson met with local MP Kris Hopkins, who took the opportunity to brief the journalist on the Council's plans to withdraw support for the Ilkley Literature Festival.
Mr Simpson – who famously entered Afghanistan in 2001 by disguising himself in a burqa – has since written to the Keighley and Ilkley MP to say how "sad" he was to hear of the funding threat now hanging over the event.
He continued: "I have very pleasant memories of it, and I remember a couple I met there telling me how important the Festival was for the entire region, and how it kept them in touch with the arts and cultural life of the UK and the wider world.  Festivals like this play a big part in the life of a community, and I very much hope the decision to cut the funding will be reversed."
Kris Hopkins commented:
"Since its creation in 1973, the Ilkley Literature Festival has grown into the oldest and largest event of its type in the North of England.
"This is down in no small part to the unrivalled quality of literary figures and headlines names in attendance down the years, including John Simpson himself who has made two appearances.
"The support funding provided by the Council returns financial and cultural rewards multiplied many times over to the district, through increased numbers of visitors and extra tourism spend. These benefits are in addition to the significantly increased profile the town enjoys throughout the duration of the event, and beyond.
"I would urge local residents and, indeed, everyone who cares about the future of the Ilkley Literature Festival to make their views known by contributing to the Council's budget consultation exercise which closes later this month.  This can be done by logging onto the Bradford Council website.
"The Festival must be protected and it is crucial that all of us who care about the event's future play our part."
Festival Director, Rachel Feldberg said:
"We are incredibly grateful for all the support we have received in response to our campaign against the cuts. Hundreds people have expressed their support for the Festival, which is invaluable in helping to change the Council's mind.
"Having the backing of a celebrated name like John Simpson shows how important the Festival is, not just at a regional but also national level."
If you have not yet contacted Bradford Council about the proposed budget cuts, please do so by clicking here.
The numbers speak for themselves:
290 live literature events
26,000 people
33 weekly workshops for teenage writers
60 weekly creative writing and reading workshops for 8-11 year olds
An economic value of over £1million for the Bradford district