To celebrate World Book Day Sainsbury's commissioned a survey to find the 'Top 50 Books Every Child Should Read By 16'. The survey aimed to find the ultimate children's reading list and encourage bedtime reading. And while there are plenty of great books listed we noticed some of our favourites were missing.
As you can never have too many book recommendations, we asked around the office and on social media and put together our own list of 25 books we think are brilliant and that everyone should read before they are 16 (but you'll still enjoy at any age):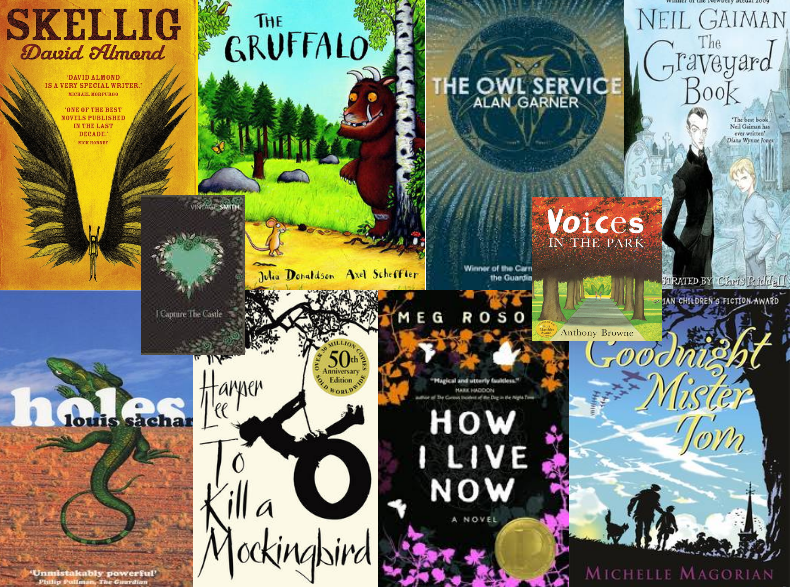 David Almond- Skellig
Malorie Blackman- Noughts and Crosses
John Boyne- The Boy in the Striped Pyjamas
Antony Brown- Voices in the Park
Melvin Burgess- Junk
Julia Donaldson- The Gruffalo
Neil Gaiman- The Graveyard Book
Alan Garner- The Owl Service
John Green- The Fault in Our Stars
Shirley Hughes- Dogger
Eva Ibbotson- Journey to the River
Oliver Jeffers- The Incredible Book Eating Boy
Jon Klassen- I Want my Hat Back
Harper Lee- To Kill a Mockingbird
Michelle Magorian- Goodnight Mr Tom
Michael Morpurgo- Private Peaceful
George Orwell- Animal Farm
Louise Rennison- Angus, Thongs and Full Frontal Snogging
Meg Rosoff- How I Live Now
Louis Sacher- Holes
Dodie Smith- I Capture the Castle
Lemony Snicket- A Series of Unfortunate Events
Mildred D. Taylor- Roll of Thunder, Hear My Cry
Dianna Wynn-Jones- Howl's Moving Castle
Markus Zusak- The Book Thief
If you think we've missed anything out let us know!